Toronto Corporate Limo Services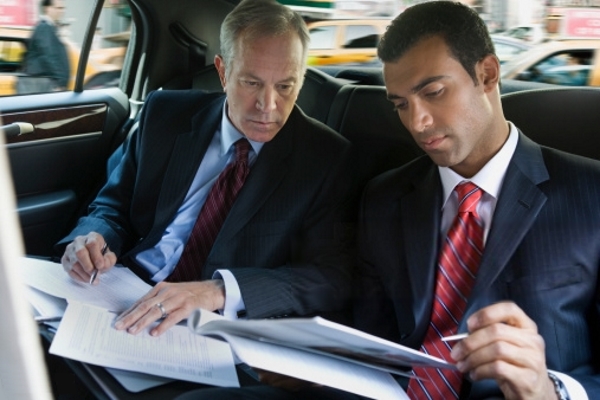 Making a great first impression on your distance clients and business guests is incredibly important. Taking care of your guests with a personalized charted black car service is one way to make a brilliant lasting impression. At Yorkville Limousine, we pride ourselves on being Toronto's premier corporate limo provider. We offer a variety of corporate limo services for any of your needs. Whether your clients need transport to your event venue, airport pickup or drop-off, or need a safe, secure lift to your office, Toronto's finest limousine service can provide. Regardless of your unique corporate limo needs, our professional chauffeurs will work with your organization to ensure optimal transportation. Keep track of and ensure the safety of your visitors and clients, all while impressing them with uniquely tailored concierge service.
TAKE CARE OF YOUR BUSINESS, WE TAKE CARE OF THE REST
You are passionate about your business, and that's where your focus should be. You shouldn't have to worry about how you'll pick up executives at the airport or how you'll get to that conference across town. We are happy to provide you with the peace of mind that comes with chartered corporate limousine transport. You get to keep focus on what's important and avoid the burn of dissatisfied clients arriving late after hopping from cab to cab. Make it clear that you take your business seriously, take your clients' comfort into your own hands and make a lasting impression. If it's not a limousine you're looking for, we also offer premium black car services in a variety of high-end vehicles. We provide pick-up services from any location, including the airport.
MAKE BUSINESS TRAVEL A HASSLE-FREE AFFAIR
In the corporate world, there are many situations that call for a black car service, or even a limo. Cabs and driving yourself can send the wrong message, especially for out of town clients unfamiliar with the city. Imagine coming to a new place and not knowing whether you are being picked up, hailing a cab or trying to rent a car last minute. Corporate travel is based on timing and schedules to keep things running smoothly, just like your business. Every minute is precious. You can't afford to waste your guests' time by letting them figure out their own transportation. You may not have thought about just how many things can be made easier by dedicated transportation services. Below are some situations you may find chartered corporate limo services can help with:
Catching an early-morning flight: You don't want to be late and miss your flight, so it's a great idea to schedule a reliable pick-up and drop-off at the airport.
Hotel pick-up and drop-off: Make your guests feel like your first priority by giving them a comfortable and unique ride experience from the airport to their hotel.
Conferences and conventions: Getting to and from major venues in the city with ease can make your guests' experience even better. Whether you're travelling to a conference, convention or several places in a day, having dedicated transport can be a breath of fresh air.
Large groups and casual gatherings: Show your executives and employees you care about their wellbeing from start to finish. Coordinating a cab pool or other large-scale transport systems can be a hassle for even the most patient of us. With dedicated transport and high-capacity luxury vehicles, we can handle a holiday party easily.
Making it to and from meetings on time: Being late to any meeting makes a bad impression, let alone a remote one. Whether you're host or guest, get to and from meetings on time and in comfort, leave the traffic to us.
Travelling around the city: When the business is done and the formalities are over, you may want to show your clients around this incredible city. Wherever it is you need to be, get there in time, set up and head home in comfort after an exhausting day with our complete corporate limo and black car service.
THE BENEFITS OF A CORPORATE LIMOUSINE ACCOUNT
You may not immediately think of hiring a chartered luxury transport service for your corporate needs. Imagine having an umbrella as opposed to a hat to keep you dry in the rain. Yes, a hat may keep your head dry, but an umbrella makes things far easier in the long run. Yorkville Limousine corporate services are your umbrella, and peace of mind. There are plenty of benefits to hiring us and our elite Toronto black car services.
EXTENSIVE CORPORATE LIMO FLEET
Not only are our services premium and top-quality, but our fleet is too! We only offer the latest models on luxury vehicles, no older than 4 years in age. By continually updating our fleet, we can ensure satisfaction and the highest level of comfort and safety. Whether you're in need of a town car, SUV, stretch limo, or bus, we have over 10 different vehicle types vehicles to choose from.
MEET AND GREET SERVICES
Our customized, dependable airport meet and greet service will make air travel easier than ever. After a long flight, the last thing you want to worry about is driving back to the office. For a comfortable and stress-free adventure from the airport, hire a corporate limo & black care service. Our chauffeur will meet you at the airport and get you fast tracked through long queues, so you can be on your way as soon as possible.
TOP-RATED CHAUFFEURS
Your safety (and that of your corporate guests and employees) is our top priority. That's why our chauffeurs are intensively trained and disciplined. They are driving professionals that are trained to in multiple routes and all types of traffic conditions. To ensure all your needs are met, we also ensure all our drivers have excellent communication skills and provide a comfortable and respectful ride. Because our drivers know how to effectively handle corporate clients, you can rest assured your important guests will be well taken care of. Regardless of your travel requirements, you can count of best-in-class black car limo services.
RELIABLE SERVICE
There's nothing worse than getting to the airport, a conference, or a business meeting late. It looks poorly on you and your company. That's why we ensure that chauffeured transportation is not only modern and luxurious, but also reliable and dependable. We understand you have a busy schedule, and we'll respect it by being on time. We'll always be at your door before the scheduled pick-up time, and you can rest easy knowing you'll never be running late for an important business affair. Count on Yorkville Limousine to get you where you need on time.
For more information on our corporate limo services, and how to setup an account with us, contact us online or give us a call at 416-835-5466 or toll free at 1-888-835-8010.
Wherever you're heading, get there in comfort and luxury with Yorkville Toronto Limo's corporate transport services. Turn your business trip into a relaxing and enjoyable experience. We offer luxury vehicles of all kinds, to sedan-style cars that can seat up to four passengers, as well as stretch limos that can seat up to 10 passengers.