Toronto Airport Limo Pickup Services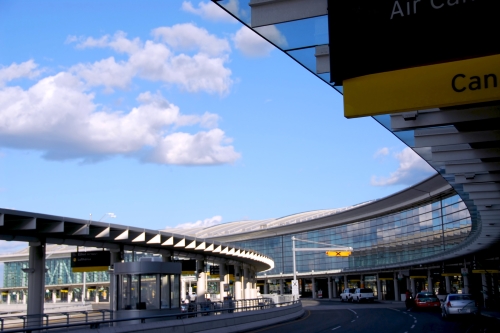 ---
When travelling to or from the airport, whether for business or pleasure, you need a fast, comfortable and reliable transportation service. You need an effective, stress-free airport transport service so you can focus on your trip instead of having to worry about mundane logistics such as how to get to the airport.
At Yorkville Limousine, we provide an executive black car service that specializes in luxury transportation. However, that's not all; we go a step further to provide you with one of the most sought after transport service; an airport limousine service.
WHEREVER YOU'RE GOING, WE'VE GOT YOU COVERED!
Whether you need a pick-up, drop-off or round-trip transportation to Pearson International Airport, our Toronto airport limo service is ready! Our fleet of luxury limos, sedans, SUVs and our professional chauffeurs will take you and your guests to and from the airport in unmatched luxury comfort. From traditional stretch limousines to high-end SUVs and luxury sedans, we have over ten different breathtaking vehicle options to choose from that all suit different needs and events. In most cases, the vehicle you choose is dependent on the number of passengers you need to move. We aim to accommodate whatever you may need and aim to please!
Pearson Airport Limousine Drop Off
With us, you will get to Pearson International Airport on time for your flight. Besides, our professionally trained chauffeurs understand the importance of being punctual and will make sure you get to the airport in time to go through the necessary baggage and security checks before boarding your flight.
Pearson Airport Limousine Curbside Pick up
Terminal #1: (Arrivals Level)
Please proceed to "Door A" on the outside of the terminal and ask the commissionaire to call Yorkville Limousine. Proceed to provide the name under which the limousine was booked, and your car will be at the post within 5 minutes.
Terminal #3: (Arrivals Level)
Clear customs, pick up your luggage and go to the pre-arranged limousine area at "DOOR A / PILLAR 7" on the arrivals level. Give your name and have the Commissionaire call your Limousine Company. If you cannot locate your vehicle please call your chauffeur directly or call our office at 416-835-5466 immediately.
Meet & Greet Service
Yorkville Limousines also offer VIP Meet & Greet Services inside the Airport. Have one of our professional greeters meet you with a name sign outside the baggage claim area. We will carry your luggage to your vehicle.
Private FBO Airport Limousine Pick up / Drop Off
Yorkville Limousine also provides transportation to and from the private FBO Airports located just outside of YYZ Toronto Pearson International Airport. We serve all private airports, including Skyservice Avitat, Signature Aviation, Skycharter Ltd., and Porter FBO. One of our chauffeured vehicles will pick or drop you off right on the tarmac, as close as possible to your plane.
Please use our free quote tool or contact us at 1-888-835-8010 to book your upcoming Airport limo.
---
OUR SERVICE OPTIONS FOR MULTIPLE PASSENGERS
The Cadillac XTS Black
The trunk of this Cadillac can fit up to three large suitcases. Book this vehicle if your key consideration is to ride to and from the airport as luxuriously as possible. Riding in one of our Cadillac XTS Black limos is the ultimate definition of riding in style.
The Mercedes Benz S Class Black
With a trunk capacity of up to three large suitcases, the Mercedes Benz S Class Black is a perfect choice for ferrying high profile executives to and from the airport. It is one of the most luxurious sedans in our fleet of vehicles.
Options for up to 4 passengers.
The Chevrolet Suburban SUV Black
This Chevrolet can hold up to 6 large suitcases in its trunk. It is ideal for comfortably and safely transporting groups that cannot fit in a regular 4-passenger vehicle to and from the airport.
The Cadillac Escalade SUV Black
The trunk of an Escalade can comfortably accommodate up to 6 large suitcases. This vehicle is also an excellent choice for airport transfers of up to six high profile executives.
Options for up to 6 passengers.
The Black Lincoln Stretch Limo
You can fit up to three large suitcases in the trunk of a Black Lincoln Stretch Limo. It is one of the most iconic and highly recognized limousines of our time. It is the perfect choice for conveniently and comfortably transporting large groups to and from the airport. Choose between a stunning black or classy white finish to create the perfect aesthetic for your event.
The White Lincoln Stretch Limo
This limo has the same features as the Black Lincoln Stretch limo, the only difference being the colour.
FORD TRANSIT VAN
The Ford passenger van is the perfect choice when transporting large groups of up to ten passengers, including their luggage. What sets this Ford Van apart from the others is 10 passenger capacity vehicles is the fact that its trunk can accommodate up to 14 large suitcases or luggage pieces.
The Mercedes Sprinter Van Black
Our sprinter van has a trunk with enough space for ten large suitcases. It is also an excellent choice for airport transfers of large groups with excess luggage or large pieces.
Options for up to 10 passengers.
Service Options for 20 To 30 Passengers
If you are looking for airport limo services for an airport pickup of larger groups of 20-30 passengers, you can hire the largest vehicle in our fleet, The Executive Coach Limousine Bus Black. The trunk of this executive party bus can accommodate 15 large suitcases and still won't leave you crowded up top.
Options for 20 to 30 passengers.